User's Gathering 2020 - Zoom Version
Covid 19 cancelled our in-person gathering. But, if you're not experiencing too much Zoom Fatigue, join over 150 others who have already registered for a 2 hour User's Gathering via Zoom.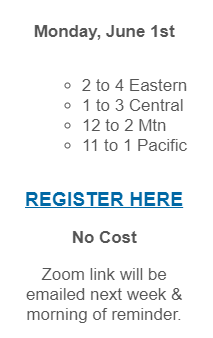 Our format will be 10-15 minute TED type talks followed by 10-15 minutes of chat-assisted
NEW! Navigation Menu & Knowledge Base. James Seawell & Jennifer Coates - You know them. You love them. CT Support Champions!!discussion. Here are the 4 topics and presenters:
Ways We Use Workflows & Registration. Timmy Tynor - XP, The Rock Church Conway SC & CT Workflow Ninja!!
Ways We Aligned Staff on Using Churchteams. Brad Crawley - IT Director, Central Baptist Jonesboro AR & Everyone's FB Forum Friend!!
Churchteams Future Features. Mark Horan - Co-founder, Software Architect - Incredible friend of all. Software Savant!!
If you can't make it, Register here to receive a recording.